1.Message Push
Foscam IP camera can detect sound and motion around itself and trigger prompt alert; straight after, it will immediately send an alert message to you mobile APP to make you notice of what happening at the first time. In this message, you can get the type of detection (sound or motion), time for the detection as well as the place that the detection happens in the form of words. You can check the alert message whenever you want in the message interface in the Foscam APP.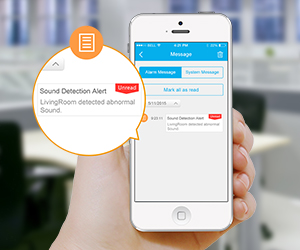 2.Rich Media Message Push
Foscam Cloud adopts an advanced technology, Rich Media Message Push, which is a new message type that can send alerts message with real-time snapshots to your mobile APP. This kind of vivid message can keep you always stay connected with the newly events by real snapshots, but also enable you to make accurate judgment for taking further actions.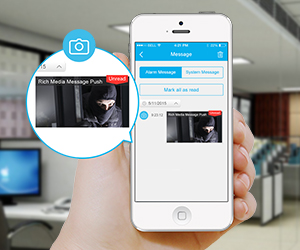 One thing you should notice is that, every brand new IP camera which is newly added to your Foscam Cloud account comes with a 30-day free trial of Rich Media Message Push function, therefore, you can receive real-time alerts with 30 snapshots at most per day and save them for 7-day for a later view. After 30 days, your free trial will end. However, if you have already been a Foscam Cloud storage user, you'll experience alert message with unlimited real-time snapshots all for free, and save them for the days according to your subscribed package; otherwise, you'll no longer receive any alerts with real-time snapshots.

What you have to do is to make sure your camera version is updated to the version of 2.x.1.18 or above. And up to now, models that support Rich Media Message Push are C2, R2, R4, FI9900P, FI9900EP. More models will soon be covered.