So far Foscam Cloud Service can offer users convenient services such as Cloud Storage, Rich Media Message Push(alert push notifications with real-time snapshots), and Alert Message Push. However, what you can get out of Foscam Cloud is much more than those. In the coming future, much more customized services will be introduced to you to bring you a better user experience, like cloud share.As so far , there are five important feature of Cloud Service?

1.save live alarm video from Cloud Storage
Cloud Storage is a paid subscription service that enables you to put your home&office&factory significant videos, photos and valuable evidence on your private account, so that you can go back in time to see what you have missed, on your mobile devices, tablet or computer from anywhere, anytime. With Foscam Cloud Storage, your IP cameras can continuously record video 24/7 and save them in the cloud conveniently, meanwhile securely. Every time when you check the video records on a computer, a timer axis below the split screen with distinguishable alarm and normal records marked by different colors, is designed for you to make it quite convenient to see the selected time period.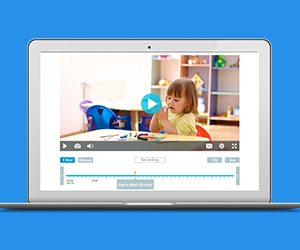 2.Alerts message with real-time snapshots
Foscam Cloud adopts an advanced technology, called Rich Media Message Push, which can directly send you alert push notifications with real-time snapshots to your mobile APP, keeping you always stay connected with the newly events and never missing something important.One thing you should notice is that, every brand new IP camera which is newly added to your Foscam Cloud account comes with a 30-day free trial of Rich Media Message Push function, therefore, you can receive real-time alerts with 30 snapshots at most per day and save them for 7-day for a later view. After 30 days, your free trial will end. However, if you have already been a Foscam Cloud storage user, you'll experience alert message with unlimited real-time snapshots all for free, and save them for the days according to your subscribed package; otherwise, you'll no longer receive any alerts with real-time snapshots.


What you have to do is to make sure your camera version is updated to the version of 2.x.1.18 or above. Besides, another kind of alert message called message push, which can send you alert messages when motion or sound is detected. This also makes you know what's happening anywhere you're.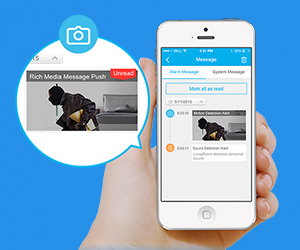 3.Safe privacy preserving
Unlike SD card storage, which can be easily damaged or stolen, thus, result in video loss or privacy leakage, Cloud storage is a highly secure way for privacy preserving. Foscam Cloud can not only provide you with a convenient and powerful way of video and pictures saving, but also can assure the safety of things you store on it. So, you can freely save much video records and need not worry about the information leakage issues any more as long as you use official Foscam cloud application.